Posts for tag: snoring
By Front Range Dental Sleep Medicine Inc.
November 10, 2020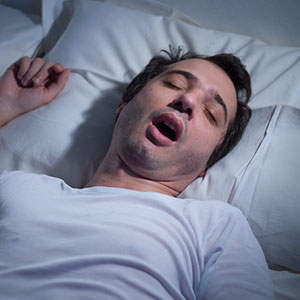 One in ten Americans has diabetes, a serious condition that may increase the development and severity of other health problems—including gum disease. Because of this latter connection, dental providers join other health professionals during November's National Diabetes Month to call attention to this chronic disease and its effect on health and well-being.
There's another health condition with a diabetes connection that isn't as well known: obstructive sleep apnea (OSA). It's also of keen interest to dental providers, as dentists are often involved in the discovery and treatment of this common sleep disorder.
OSA is the temporary blockage of the airway during sleep by the tongue or other anatomical structures. The subsequent drop in oxygen awakens the body to remove the obstruction. People with OSA may not realize they have the condition, but their bed partner can often attest to their snoring, snorting and gasping for breath during the night. Such episodes can occur several times per night, depriving the person of sufficient sleep.
Chronic OSA can contribute to the development of other health problems, among them Type 2 diabetes. It can do this first by interfering with the metabolization of glucose (blood sugar). It may also increase the body's resistance to insulin, the primary hormone regulating glucose.
Fortunately, properly managing OSA can lower your risk for diabetes, and that's where dentists may be able to help. For one thing, we dentists are often the first to notice early signs of OSA—sometimes even before our patients do.
According to the American Sleep Apnea Association, as many as 80% of the estimated 22 million Americans with OSA may not know they have it. But dentists often identify OSA indicators while examining patients: signs like an enlarged tongue or tonsils, or patients falling asleep in the exam chair. While we can't formally diagnose OSA, we often refer symptomatic patients to a sleep specialist.
Dentists also offer an alternative to the most common OSA therapy, which is continuous positive airway pressure (CPAP). This therapy employs a motorized pump that delivers pressurized air into the throat via face mask to keep the airway open during sleep. Although effective, some people find a CPAP machine noisy and uncomfortable to use.
Alternatively, dentists can provide an oral device that can often help patients with mild to moderate OSA that's worn in the mouth during sleep. Most of the various types of these appliances either reposition the lower jaw with a hinge mechanism to keep the throat open or pull the tongue away from the airway through a suction effect.
Diabetes is one part of a chain reaction that can bring unexpected challenges to your health, including to your teeth and gums. You can slow or even stop its development with proper diet, exercise and good, restful sleep. Dealing with OSA is often part of that equation—and we may be able to help.
If you would like more information about the prevention and treatment of diabetes, please contact us or schedule a consultation. To learn more, read the Dear Doctor magazine article "Oral Appliances for Sleep Apnea."
By Front Range Dental Sleep Medicine Inc.
August 22, 2020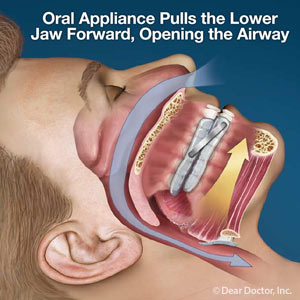 Millions of people have obstructive sleep apnea—and some don't even realize it. That's because even though these airway-blocking episodes can occur several times a night, they may only last a few seconds. The brain rouses the body just long enough to open the airway but not long enough to awaken the person to consciousness.
Even though a person with sleep apnea might not remember what happened to them, they can still experience the effects of sleep disturbance: drowsiness, irritability or an inability to focus. Over time, the accumulation of "bad sleep" could increase their risk for heart disease or other life-threatening conditions.
But there are effective ways to alleviate or lessen obstructive sleep apnea. The main "go-to" treatment is a method called continuous positive airway pressure (CPAP). CPAP utilizes an electric pump that supplies a constant flow of pressurized air through a mask worn by the patient while sleeping. The increased air pressure around the throat helps keep the airway open.
But although it's effective, CPAP is unpopular with many people who have tried it. Many find the hose and other equipment cumbersome, or the mask too uncomfortable or restrictive to wear. As a result, quite a number simply avoid using it.
If you've had a similar experience with CPAP or would rather explore other options, we may have an alternative: an oral appliance you wear while you sleep. It can help prevent or lessen symptoms in cases of mild to moderate airway obstruction caused by the tongue or other forms of tissue.
Sleep apnea appliances come in two basic forms. One uses metal hinges to help move the lower jaw and tongue forward. The other form has a compartment that fits around the tongue and applies suction to help keep the tongue moved forward.
These appliances may not be suitable for patients with severe sleep apnea or whose cause is something other than a physical obstruction like abnormal neurological signaling patterns. But where they are appropriate, they can be an effective alternative to CPAP and the key to a better night's sleep.
If you would like more information on this dental solution for sleep apnea, please contact us or schedule an appointment for a consultation. You can also learn more about this topic by reading the Dear Doctor magazine article "Oral Appliances for Sleep Apnea."
By Front Range Dental Sleep Medicine Inc.
July 03, 2020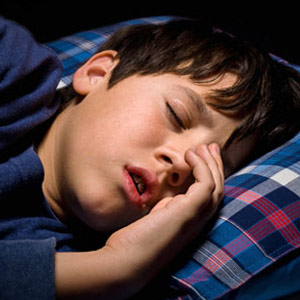 We all know how much better we feel after a good night's sleep: refreshed, energized and ready to handle — even excel at — our day-to-day responsibilities. Yet millions of people, young and old, are robbed of a good night's rest by sleep-related breathing disorders such as sleep apnea, in which the soft tissues in the back of the throat block the airway during sleep. This temporarily disrupts airflow, causing numerous "micro-arousals" (sleep interruptions) that we may not even be aware of. A lack of sleep can make us drowsy, irritable and unfocused. In children, these typical symptoms of sleep apnea can lead to mistaken diagnoses of Attention Deficit Hyperactivity Disorder (ADHD).
The relationship between sleep apnea and behavioral problems has been highlighted in several recent scientific journal articles, including a major study published several years ago in Pediatrics, the official journal of the American Academy of Pediatrics. The lead author, Dr. Karen Bonuck, said at the time: "We found that children with sleep-disordered breathing were from 40 to 100 percent more likely to develop neurobehavioral problems by age 7, compared with children without breathing problems. The biggest increase was in hyperactivity, but we saw significant increases across [other] behavioral measures." Therefore, an accurate diagnosis of a child's behavioral problems — leading to the right treatment — is crucial. While sleep apnea must be diagnosed by a physician, treatment for the condition is often provided by a dentist.
What can be done for children suffering from sleep apnea? The most common treatment is surgical removal of the tonsils or adenoids. This treatment can sometimes be performed by an oral and maxillofacial surgeon, a dentist who has received several years of post-graduate surgical training. There are several other procedures oral surgeons can perform to open the airway, depending on what anatomical structures are blocking it.
Sometimes a child with sleep apnea can benefit from a procedure to expand the palate (roof of the mouth) to enlarge the airway. This is not a surgical treatment but rather an orthodontic one. An orthodontist (a dentist who specializes in moving teeth) will fit the child with a palatal expander, a butterfly-shaped device that gradually separates the two bones that form the upper jaw and roof of the mouth. This is often done to prevent crowding of teeth and other bite problems, but has been shown in some cases to improve airflow.
There is another dental approach used to treat adults and older children, whose jaw growth is complete. It's called oral appliance therapy, and it involves wearing a custom-made device during sleep that resembles a sports mouthguard or orthodontic retainer. An oral appliance can maintain an opened, unobstructed, upper airway during sleep in various ways, including: repositioning the lower jaw, tongue, soft palate and uvula; stabilizing the lower jaw and tongue; increasing the muscle tone of the tongue.
If your child has been diagnosed with sleep apnea, we can help you find the best treatment approach. For more information, please contact us or schedule an appointment for a consultation. You can also learn more by reading the Dear Doctor magazine articles "Sleep Disorders & Dentistry" and "Snoring & Sleep Apnea."