Posts for tag: dental implant
By Front Range Dental Sleep Medicine Inc.
February 28, 2021

Although they can be expensive upfront, dental implants often prove to be a wise investment in the long-term. With a success rate that outperforms other teeth replacement restorations, dental implants could be the answer to a more attractive smile that could last for decades.
But while their success rate is high (95% still functioning after ten years), they can and do occasionally fail. Of those that do, two-thirds happen in patients who smoke.
This unfortunate situation stems from smoking's overall effect on dental health. The nicotine in tobacco constricts oral blood vessels, inhibiting the flow of nutrients and antibodies to the teeth and gums. Inhaled smoke can scald the inside skin of the mouth, thickening its surface layers and damaging salivary glands leading to dry mouth.
These and other effects increase the risk for tooth decay or gum disease, which in turn makes it more likely that a smoker will lose teeth than a non-smoker and require a restoration like dental implants. And blood flow restriction caused by nicotine in turn can complicate the implant process.
Long-term implant durability depends on bone growth around the imbedded implant in the ensuing weeks after implant surgery. Because of their affinity with the titanium used in implants, bone cells readily grow and adhere to the implant. This integration process anchors the implant securely in place. But because of restricted blood flow, the healing process involved in bone integration can be impaired in smokers. Less integration may result in less stability for the implant and its long-term durability.
To increase your chances of a successful implant installation, you should consider quitting smoking and other tobacco products altogether before implant surgery. If that's too difficult, then cease from smoking for at least one week before surgery and two weeks after to better your odds of implant success. And be as meticulous as possible with daily brushing and flossing, as well as regular dental visits, to reduce your risk of disease.
There are many good reasons to quit smoking. If nothing else, do it to improve your dental health.
If you would like more information on tobacco use and dental health, please contact us or schedule an appointment for a consultation. You can also learn more about this topic by reading the Dear Doctor magazine article "Dental Implants & Smoking."
By Front Range Dental Sleep Medicine Inc.
December 20, 2020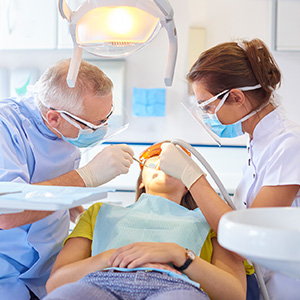 After years battling disease, your troubled tooth reached its useful life's end. It's been extracted, and we've replaced it with a life-like dental implant. So now, as far as the implant goes, disease is no longer an issue…right?
Sorry, no—though not to the same degree as a natural tooth, an implant could be endangered by gum disease. Although the implant's materials can't be infected, the supporting gums and bone can.
In fact, there's a particular type of gum disease associated with implants known as peri-implantitis ("peri" around an implant; "itis" inflammation) that first affects the gums surrounding an implant. Although peri-implantitis can arise from an excess of dental cement used to affix the crown to the implant, it most commonly starts like other forms of gum disease with dental plaque.
Dental plaque, and its hardened form calculus (tartar), is a thin, bacterial biofilm that builds up on teeth surfaces. It can quickly accumulate if you don't remove it every day with proper brushing and flossing. The bacteria living in plaque can infect the outer gum tissues and trigger inflammation.
Gum disease around natural teeth can spread quickly, but even more so with implants. That's because the natural attachment of the gums helps supply antibodies that impede infection. Implants, relying solely on their connection with the bone, don't have those gum attachments. As a result, peri-implantitis can move rapidly into the supporting bone, weakening the implant to the point of failure.
The good news, though, is that peri-implantitis can be treated successfully through aggressive plaque removal and antibiotics. But the key to success is to catch it early before it progresses too far—which is why you should see your dentist at the first sign of gum swelling, redness or bleeding.
You can also prevent peri-implantitis by practicing daily brushing and flossing, including around your dental implant. You should also see your dentist twice a year (or more, if they advise) for cleanings and checkups.
Dental implants overall have a greater than 95% success rate, better than any other tooth restoration system. But they still need daily care and regular cleanings to ensure your implants are on the positive side of those statistics.
If you would like more information on caring for your dental implants, please contact us or schedule an appointment for a consultation.