Posts for: November, 2020
By Front Range Dental Sleep Medicine Inc.
November 20, 2020
Thousands of years ago, our ancestors could only expect to live between 30 and 40 years. But steady improvements in lifestyle and medical care have increased human life expectancy to almost 80 years.
Although a welcome development, it does raise a question: Are our teeth up to the added years? Even though quite resilient, it's natural for teeth to wear after years and tens of thousands of meals biting and chewing.
Fortunately, there have also been phenomenal advances in dental restorations that can effectively replace teeth we lose along the way. Even so, the most advanced artificial replacements can't restore the full benefit of natural teeth to oral and general health. The ideal goal is to preserve and protect our natural teeth for as long as possible.
Here are 4 areas worthy of your attention in protecting your teeth throughout your lifetime.
Dental disease. Tooth decay and periodontal (gum) disease are the top causes for poor dental health and tooth loss. They're caused by bacteria living and feeding primarily in dental plaque, a thin biofilm on tooth surfaces. Brushing and flossing daily, along with regular dental cleanings, removes this disease-causing plaque. You should also seek treatment as soon as possible at the first sign of dental disease.
Bite correction. A poor bite is more than a smile problem: Teeth out of alignment and not engaging normally with their counterparts on the other jaw may increase tooth wear and make hygiene more difficult to perform. Orthodontic treatment, even if undertaken later in life, can help maintain your teeth's long-term health and longevity.
Bad habits. Your teeth are tough, but not indestructible. Protect them by avoiding harmful habits or practices like crunching ice, gnawing on pencils, nails or other hard objects, cracking open nuts or using your teeth as tools. Not engaging in these kinds of habits will help reduce wear and help you also avoid chipping and fractures.
Teeth grinding. Involuntarily clenching or grinding your teeth, often while sleeping, can accelerate dental wear. If you suspect you have this habit, take steps first to deal with stress, the number one cause of adult teeth grinding. Your dentist can also fashion a mouth guard that prevents your teeth from making solid contact with each other and thus help reduce wearing to your teeth.
If you would like more information on tooth wear, please contact us or schedule an appointment for a consultation. You can also learn more about this topic by reading the Dear Doctor magazine article "How and Why Teeth Wear."
By Front Range Dental Sleep Medicine Inc.
November 10, 2020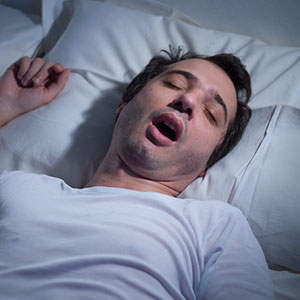 One in ten Americans has diabetes, a serious condition that may increase the development and severity of other health problems—including gum disease. Because of this latter connection, dental providers join other health professionals during November's National Diabetes Month to call attention to this chronic disease and its effect on health and well-being.
There's another health condition with a diabetes connection that isn't as well known: obstructive sleep apnea (OSA). It's also of keen interest to dental providers, as dentists are often involved in the discovery and treatment of this common sleep disorder.
OSA is the temporary blockage of the airway during sleep by the tongue or other anatomical structures. The subsequent drop in oxygen awakens the body to remove the obstruction. People with OSA may not realize they have the condition, but their bed partner can often attest to their snoring, snorting and gasping for breath during the night. Such episodes can occur several times per night, depriving the person of sufficient sleep.
Chronic OSA can contribute to the development of other health problems, among them Type 2 diabetes. It can do this first by interfering with the metabolization of glucose (blood sugar). It may also increase the body's resistance to insulin, the primary hormone regulating glucose.
Fortunately, properly managing OSA can lower your risk for diabetes, and that's where dentists may be able to help. For one thing, we dentists are often the first to notice early signs of OSA—sometimes even before our patients do.
According to the American Sleep Apnea Association, as many as 80% of the estimated 22 million Americans with OSA may not know they have it. But dentists often identify OSA indicators while examining patients: signs like an enlarged tongue or tonsils, or patients falling asleep in the exam chair. While we can't formally diagnose OSA, we often refer symptomatic patients to a sleep specialist.
Dentists also offer an alternative to the most common OSA therapy, which is continuous positive airway pressure (CPAP). This therapy employs a motorized pump that delivers pressurized air into the throat via face mask to keep the airway open during sleep. Although effective, some people find a CPAP machine noisy and uncomfortable to use.
Alternatively, dentists can provide an oral device that can often help patients with mild to moderate OSA that's worn in the mouth during sleep. Most of the various types of these appliances either reposition the lower jaw with a hinge mechanism to keep the throat open or pull the tongue away from the airway through a suction effect.
Diabetes is one part of a chain reaction that can bring unexpected challenges to your health, including to your teeth and gums. You can slow or even stop its development with proper diet, exercise and good, restful sleep. Dealing with OSA is often part of that equation—and we may be able to help.
If you would like more information about the prevention and treatment of diabetes, please contact us or schedule a consultation. To learn more, read the Dear Doctor magazine article "Oral Appliances for Sleep Apnea."