Posts for category: Oral Health
By Front Range Dental Sleep Medicine Inc.
February 14, 2020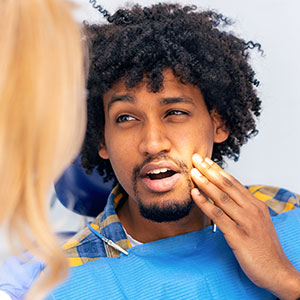 If you have tooth pain, we want to know about it. No, really—we want to know all about it. Is the pain sharp or dull? Is it emanating from one tooth or more generally? Is it constant, intermittent or only when you bite down?
Dentists ask questions like these because there are multiple causes for tooth pain with different treatment requirements. The more accurate the diagnosis, the quicker and more successful your treatment will be.
Here are 3 different examples of tooth pain, along with their possible causes and treatments.
Tooth sensitivity. If you feel a quick jolt of pain when you eat or drink something hot or cold, it may mean your gums have drawn back (receded) from your teeth to leave more sensitive areas exposed. Gum recession is most often caused by gum disease, which we can treat by removing dental plaque, the main cause for the infection. In mild cases the gums may recover after treatment, but more advanced recession may require grafting surgery.
Dull ache around upper teeth. This type of pain might actually be a sinus problem, not a dental one. The upper back teeth share some of the same nerves as the sinus cavity just above them. See your dentist first to rule out deep decay or a tooth grinding habit putting too much pressure on the teeth. If your dentist rules out an oral cause, you may need to see your family physician to check for a sinus infection.
Constant sharp pain. A throbbing pain seeming to come from one tooth may be a sign the tooth's central pulp layer has become decayed. The resulting infection is attacking the pulp's nerves, which is causing the excruciating pain. Advanced decay of this sort requires a root canal treatment to remove the diseased tissue and fill the empty pulp chamber and root canals to prevent further infection. See your dentist even if the pain stops—the infection may have only killed the nerves, but is still present and advancing.
Pain is the body's warning system—so heed the tooth pain alert and see your dentist as soon as possible. The sooner the problem is identified and treated, the better your chances of returning to full dental health.
If you would like more information on tooth pain and what it means, please contact us or schedule an appointment for a consultation. You can also learn more about this topic by reading the Dear Doctor magazine article "Tooth Pain? Don't Wait!"
By Front Range Dental Sleep Medicine Inc.
February 04, 2020
Even though teeth are resilient, they're not indestructible. An accidental collision involving the face could damage teeth, even knocking a tooth completely out of its socket.
At first, it might seem like the end of the line for that particular tooth. But it doesn't have to be—if you know what to do. But you'll have to act quickly: The longer the tooth is out of its socket, the less chance it will survive long-term.
Here are the steps you should take to save a knocked-out tooth.
Find the tooth. It's important that you locate the missing tooth quickly. When you do, don't handle it by the root end: It still contains delicate periodontal cells that are essential if the tooth is going to rejoin with the ligaments and bone. Use clean water to rinse off any dirt or debris.
Reinsert the tooth. Holding it by the crown and not the root, reinsert the tooth into its empty socket, hopefully within an hour (the faster the better). You want to make sure it's good and snug, so apply a little force when you do this. Place some clean gauze or cloth between the tooth and its opposite on the other jaw, then have the person bite down and hold it in place.
Get immediate dental care. It's preferable to find a dentist as soon as possible (if not, then the nearest emergency medical facility). The dentist will x-ray the tooth to make sure it's positioned properly, and may adjust it further if necessary. They may also splint the tooth to adjacent teeth to help stabilize it until it fully reattaches with the jaw.
Again, time is of the essence—the quicker you can perform the above steps, the better the tooth's chances. Any delay could jeopardize the tooth's ability to reattach, or it could shorten its lifespan.
You can also get guidance on treating a knocked-out tooth and other dental emergencies with a free mobile app developed by the International Association of Dental Traumatology (IADT). Just look in your Android or IOS app store for ToothSOS.
If you would like more information on what to do during a dental emergency, please contact us or schedule an appointment for a consultation. You can also learn more about this topic by reading the Dear Doctor magazine article "When a Tooth is Knocked Out."
By Front Range Dental Sleep Medicine Inc.
January 15, 2020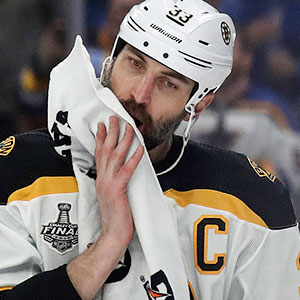 Boston Bruins defenseman Zdeno Chara had a rough Stanley Cup final against the St. Louis Blues this past June. Not only did the Bruins ultimately lose the championship, but Chara took a deflected puck shot to the face in Game Four that broke his jaw.
With the NHL season now over, the 42-year-old Bruins captain continues to mend from his injury that required extensive treatment. His experience highlights how jaw fractures and related dental damage are an unfortunate hazard in hockey—not only for pros like Chara, but also for an estimated half million U.S. amateurs, many in youth leagues.
Ice hockey isn't the only sport with this injury potential: Basketball, football (now gearing up with summer training) and even baseball players are also at risk. That's why appropriate protective gear like helmets and face shields are key to preventing injury.
For any contact sport, that protection should also include a mouthguard to absorb hard contact forces that could damage the mouth, teeth and gums. The best guards (and the most comfortable fit) are custom-made by a dentist based on impressions made of the individual's mouth.
But even with adequate protection, an injury can still happen. Here's what you should do if your child has an injury to their jaw, mouth or teeth.
Recognize signs of a broken jaw. A broken jaw can result in severe pain, swelling, difficulty speaking, numbness in the chin or lower lip or the teeth not seeming to fit together properly. You may also notice bleeding in the mouth, as well as bruising under the tongue or a cut in the ear canal resulting from jawbone movement during the fracture. Get immediate medical attention if you notice any of these signs.
Take quick action for a knocked-out tooth. A tooth knocked completely out of its socket is a severe dental injury. But you may be able to ultimately save the tooth by promptly taking the following steps: (1) find the tooth and pick it up without touching the root end, (2) rinse it off, (3) place it back in its socket with firm pressure, and (4) see a dentist as soon as possible.
Seek dental care. Besides the injuries already mentioned, you should also see a dentist for any moderate to severe trauma to the mouth, teeth and gums. Leading the list: any injury that results in tooth chipping, looseness or movement out of alignment.
Even a top athlete like Zdeno Chara isn't immune to injury. Take steps then to protect your amateur athlete from a dental or facial injury.
If you would like more information about dealing with sports-related dental injuries, please contact us or schedule an appointment for a consultation. To learn more, read the Dear Doctor magazine articles "Athletic Mouthguards" and "The Field-Side Guide to Dental Injuries."